2015 YOGA TEACHER TRAINING PROGRAMS

If you are passionate about yoga we invite you to join Upward Dog Yoga Centre's Yoga Teacher Training and Personal Development Program, recognized by the Yoga Alliance. Our certification programs are open to those with all levels of experience aspiring to teach yoga, deepen their own practice or simply learn more about yoga.

Fall - Winter program | Summer Intensive
Restorative Yoga
|
300-hr Program


---

Monday - Saturday
with COURTENAY DORE
Deep Tissue Massage
Please call to book your 60 or 90 minute treatment
613.241.9642
Shoulder Salvation! Yoga Tune Up® Workshop
with Elizabeth Whissell
Sunday, October 18 ~ 4:00 - 6:30pm
$40 + hst
Join Elizabeth Whissell for 2.5 hours of shoulder love! Learn the self massage techniques to erase pain and tension in the neck, shoulders, arms and hands. This Tune Up Workshop is ideal if you: Click and type at a computer all day • Frequently grip a racket, bat, stick, or paddle • Suffer from neck, shoulder, elbow, wrist, or hand pain.
Registration includes: 2.5 hour practice
10% off Yoga Tune Up® Ball purchase at Upward Dog Centre
Sequence printout for your home practice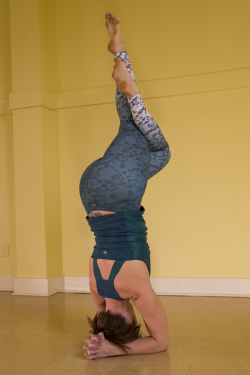 Introduction to power yoga: Developing strength for a fluid and stable yoga practice
with Angela Regnier
November 7
1:30pm - 3:30pm
$25+hst
Looking for more strength but don't feel like pumping iron? Feel like you might want to try arm balances and inversions but don't know where to start? Does the concept of power yoga intrigue you but feel its too overwhelming to try out? Then this workshop is for you! Power yoga is meant to help strengthen the body and the mind progressively to promote confidence and long-term health! This workshop is full of subtle and fun techniques and postures you can incorporate into your yoga practice. It will also explore breathing techniques that will help strengthen your core, your stability, and your focus. This workshop is all levels an for all body types. Bring your sense of humour and an open mind!
Akhanda Yoga® - Intro to Akhanda Practice
Tuesday, October 13th, 2015 6:00-8:00pm
with ELIZABETH WHISSELL
$20+HST
Akhanda Yoga® is a holistic yoga teaching approach. In this practice you will explore a themed class with a balance of yin/yang postures, and other diverse aspects of yoga such as pranayama, mantra, relaxation, visualization and meditation. The class is intended for all-levels; beginner and intermediate postures and breathing techniques will be taught.
Date Night Yoga
with Tania Fréchette & Dion Derksen
November 7
7pm - 8:30pm ~ $32 per couple
Make date night more fun with some yoga! Bring your spouse, partner or a date to a fun-filled partner yoga class. You will experience a variety of approaches to partner yoga including assisted postures, mirrored postures and Thai yoga massage techniques. No yoga experience necessary. $32+hst per couple. Register early! Maximum of 10 couples per workshop.
YOGA FOR BIRTH
with JENNIFER YOUNG
Sunday, November 8 ~ 1pm - 7pm
$85+hst
This workshop is for pregnant women and their partners (in life and/or birth) and includes a yoga practice specifically designed to assist with pregnancy and labour (its OK if you or your partner have never done yoga before). Discussions will include how practicing positions and breathing can assist with both discomforts of pregnancy and as comfort for childbirth.



Restorative Yoga
with Melanie Allison
Sundays, Oct. 25 & Nov. 22
4:30pm - 6:30pm ~ $20+hst
Restorative yoga supports the body, soothes the nervous system and strengthens the immune system. Bolsters, blocks and blankets are used for our yoga poses so the body can rest in that support, let go and heal




Attend our Info Session for the 2016 Jamaica Yoga & Cultural Retreat
and you'll get a special extension on our early bird prices!
February 15 - 22, 2016
Join Kayla & Jessica in Jamaica for an unforgettable week filled with inspiring yoga classes,
fun in the Caribbean sun, sea & sand, fresh food indulgences, island adventures, vibes,
music & culture!
Click here for more details!


---
UDYC MEMBERSHIP
(AUTO RENEW)
Join Upward Dog Yoga Centre for 6 months and enjoy unlimited yoga
for $102.48 monthly (includes HST).
---
Tuesday,
October 13, 2015
6:30 am - 7:30 am
Morning Hath Flow
Riley Cain

10:00 am - 11:30 am
Hatha Based Yin
Roxanne Joly

10:00 am -11:30 am
Post Natal
(1 -8 months)
Abigayle Barnett

12:00 pm - 1:00 pm
Hatha Flow
Abigayle Barnett

4:30 pm - 5:30 pm
Hatha Core
Jess Magnan

5:45 pm - 7:15 pm
Hatha for Strenth
Trisha Pagnutti

7:30 - 9:00 pm
Hatha for Hips
Courtenay Dore

9:15 pm - 10:00 pm
Bedtime Yoga
Jess Puckering
KARMA CLASS


Sundays
1 pm - 2 pm