2016 YOGA TEACHER TRAINING PROGRAMS

If you are passionate about yoga we invite you to join Upward Dog Yoga Centre's Yoga Teacher Training and Personal Development Program, recognized by the Yoga Alliance. Our certification programs are open to those with all levels of experience aspiring to teach yoga, deepen their own practice or simply learn more about yoga.

Fall - Winter program | Summer Intensive | Yoga Night School
Restorative Yoga
|
300-hr Program


---

Monday - Saturday
with COURTENAY DORE, RMT
Deep Tissue Therapy
Please call or CLICK to book your 60 or 90 minute treatment


613.241.9642

BLISS: A Fusion of Yin, Massage, Assists & Aromatherapy
with NATHALIE GAGNON & COURTENAY DORE, RMT
Sunday, September 25th
5:30pm - 7:30pm
$40+hst
(Space is limited. Advance registration is required. Sorry no refunds for this event)

Join Nathalie Gagnon and Courtenay Dore for a blissful two-hour Yin yoga practice with massage! Nathalie will guide you through a restorative yin practice. Courtenay and several RMTs will float the room providing hands on assists and massage, thus enabling you to sink deeper into each pose, heightening your experience and increasing your state of relaxation and bliss. Don't miss this Omazing event! Aromatherapy provided by Saje Natural Wellness.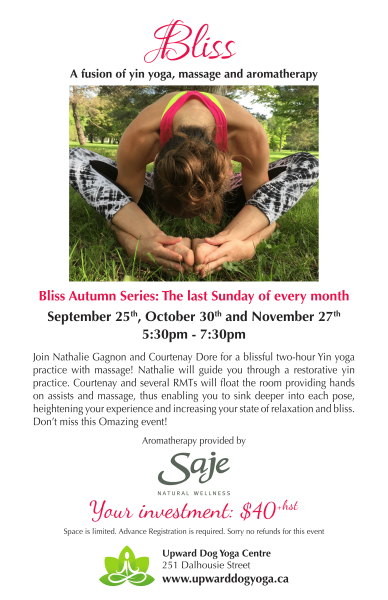 UDYC MEMBERSHIP
(AUTO RENEW)
Join Upward Dog Yoga Centre for 6 months and enjoy unlimited yoga
for $102.48 monthly (includes HST).
---
Wednesday
September 28th, 2016

6:30 - 7:30 AM
Morning Hatha Flow
Katie Laferriere

7:30 - 8:30 AM
Yin Yang Hatha
Tatiana Eremina

10:00 - 11:15 AM
Gentle Hatha
Jessica Puckering

12:00 - 1:00 PM
Pilates
Devon Honywill

4:30 - 5:30 PM
Hatha Intermediate
Elizabeth Whissell

6:00 - 7:15 PM
Hatha with Assists
Courtney Dore

6:00- 7:15 PM
Yoga Tune Up
Elizabeth Whissell

7:30 - 8:45 PM
Power Flow
Maureen Dowbiggen

7:30 - 8:45 PM
Yin
Cassie Love
YOGA FOR CHARITY CLASS


Sundays
1 pm - 2 pm
$5 MINIMUM DONATION