2016 YOGA TEACHER TRAINING PROGRAMS

If you are passionate about yoga we invite you to join Upward Dog Yoga Centre's Yoga Teacher Training and Personal Development Program, recognized by the Yoga Alliance. Our certification programs are open to those with all levels of experience aspiring to teach yoga, deepen their own practice or simply learn more about yoga.

Fall - Winter program | Summer Intensive | Yoga Night School
Restorative Yoga
|
300-hr Program


---

Monday - Saturday
with COURTENAY DORE
Deep Tissue Massage
Please call to book your 60 or 90 minute treatment
613.241.9642
Yoga Tune Up® Workshops
with Elizabeth Whissell
Sundays, ~ 4:00 - 6:30pm
$40 + hst
Join Elizabeth Whissell for 2.5 hours of Yoga Tune Up!

Finger Fix Up! Yoga Tune Up® Workshop! SUNDAY, MAY 8
4PM -6:30PM

Registration includes: 2.5 hour practice
10% off Yoga Tune Up® Ball purchase at Upward Dog Centre
Sequence printout for your home practice



MOTHER-DAUGHTER YOGA
WITH JENNIFER AND HOLLY
SUNDAYS, APRIL 24 & MAY 8 ~ 1:30pm - 2:30pm
$20+hst
Join Holly and her mom Jennifer for an hour of mother daughter yoga. This practice is for girls age 7 to 12 and their mom's (or adult female role model). In this hour together we will explore postures, breath work, mediation and self care. Come and share a fun, and playful experience with us, while sharing the many benefits of yoga with each other.


DATE NIGHT YOGA
with Tania & Dion
Saturdays, May 7 & June 4
7pm - 8:30pm
$35+hst per couple
Make date night more fun with some yoga! Bring your spouse, partner or a date to a fun-filled partner yoga class. You will experience a variety of approaches to partner yoga including assisted postures, mirrored postures and Thai yoga massage techniques. No yoga experience necessary.
Register early! Maximum of 10 couples per workshop.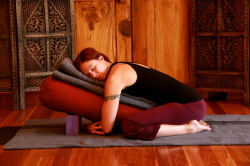 TWO-HOUR RESTORATIVE YOGA CLASS
WITH MELANIE ALLISON
SUNDAY, MAY 15
4:30PM - 6:30PM
$20+HST
Join Melanie Allison for a two-hour Restorative Yoga class.
Restorative yoga supports the body, soothes the nervous system and strengthens the immune system. Bolsters, blocks and blankets are used for our yoga poses so the body can rest in that support, let go and heal
Mala Making Workshop
with Katie Laferriere
Saturday, May 14 ~ 1pm - 3:30pm
$85+hst

A mala is a strand of 108 beads that can be used for meditation or simply worn as a reminder of an intention. Gemstone malas are not only beautiful, but gemstones are believed to carry many beneficial qualities and healing properties. In this 2.5 hour workshop you will have the opportunity to explore your intentions, learn hand-knotting and tassel-making skills, and walk away with a brand new gemstone mala and a new tool for your meditation practice.
MEDITATIVE AND CREATIVE WORKSHOPS FOR PERSONAL INSIGHT AND JOY
May 10, 17 & 31
$135+hst for all 3 sessions (Includes all supplies)
Join Art Educator, Suzanne Valois http://www.theartofbeinghuman.ca/, for this 3-part workshop where Suzanne will guide participants through contemplative drawing practices which open a dialogue with one's inner-self and fosters personal insight, a feeling of joy and a sense of freedom.
Whether seated on cushions for some zen drawing or body mapping (outlining the body and filling it in with collage and colour work) this experience encourages you to play and dialogue with your inner self. Further your self-discovery and add a new dimension to contemplative practices in the relaxing and calming atmosphere of a yoga studio. No experience necessary – must be able to work easily on the floor.



UDYC MEMBERSHIP
(AUTO RENEW)
Join Upward Dog Yoga Centre for 6 months and enjoy unlimited yoga
for $102.48 monthly (includes HST).
---
Saturday,
May 7th, 2016


9:00 am - 10:30 am
Hatha Yoga Intermediate
Jessica Puckering

9:30 am - 10:30 am
Devon Honywill
Pilates

11:00 am - 12:30 pm
Yin Yoga
Garrett Plumley

11:00 am - 12:30 pm
Power Core
Gen Munro
HOT ROOM

1:00 pm - 2:15 pm
Hatha Yoga All Levels
Jessica Puckering

2:30 pm - 3:45 pm
Hatha Flow
Isabelle Fontaine


KARMA CLASS


Sundays
1 pm - 2 pm